We would like to thank our Exhibitors, Visitors, Supporters and Partners for making IGATEX Pakistan 2018 a Big Success. SEE YOU NEXT YEAR in Karachi from 
26 – 28 February 2019

.
IGATEX Pakistan Exhibition 2018 Inaugurated Today on 26th April
The 11th International Exhibition and Conference for Garment and Textile Industry (IGATEX) is taking place from the 26th – 29th of April at Lahore Expo Centre. The event is being organized by leading exhibition event organizer FAKT Exhibitions. FAKT specializes in organizing industrial, corporate and consumer events across Pakistan.
The only event of its kind for the textile and garments industry in Pakistan, IGATEX is designed to provide a platform for the establishment of strong trade relations within the textile industry. The event will have the participation of more than 500 Exhibitors from 32 countries including China, Italy, Germany, France, Japan, Russia, Turkey, UAE, USA, UK amongst others.
The event will also feature a two day high-level conference on the 27th and 28th covering topics related to Technical Textile, Merchandising and Supply Chain which will be discussed by 15 renowned speakers. The chief guests attending the event are Mr. Ahmed Bakhsh Narejo, Chairman APTMA, Mr. Gohar Ejaz, and President Advisory Council All Pakistan Textile Mill Association.
Speaking of the occasion, APTMA President, Mr. Ahmed bakhsh narejo had this to say, "These are great opportunities for promoting growth in Pakistan's industry and I am very pleased to be a part of this. IGATEX gives the industry in Pakistan the ability to make contacts and forge business ties around the world."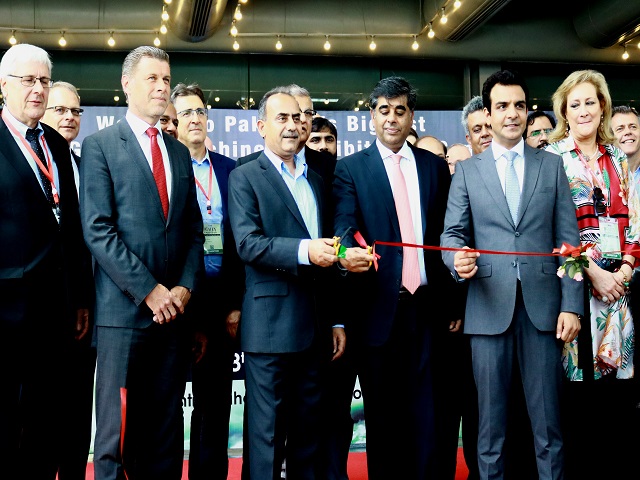 "The exhibition will showcase stand-alone demonstrations of various cutting edge industry tools & technology and will display the latest machinery, chemicals and equipment used in the textile industry. IGATEX Pakistan 2018 will provide a premium platform for all textile stakeholders, government regulators, associations and academia to enhance business networking, knowledge sharing and to build profitable relationships in the long run," Mr. Saleem Khan Tanoli, CEO Fakt Exhibitions added.

IGATEX CONFERENCE 2018
Educate – Inspire – Succeed
27th – 28th April 2018
Location: Hall-3
CONFERENCE ORGANISING COMMITTEE
CONFERENCE PROGRAM 2018
DAY 1 ‐ 27 April 2018 – Friday
Time
Topics

10:45am – 10:50am

National Anthem Pakistan

10:50am – 11:05am

Welcome Speech by Mr. M. Saleem Khan Tanoli (CEO) FAKT Exhibitions Pvt Ltd

11:05am – 11:15am

Welcome Speech by SM Qutab (Chairman) The Textile University of Manchester

11:20am – 11:50am

Keynote Presentation : Innovation & Entrepreneurship


Dr. Tanveer, Professor of Textile Engineering, National Textile University

11:55am – 12:25pm

Industrial Cyber Physical Systems Paradigm Applied to Spinning Mill


Mr. Gianangelo Licini, Sales Area Manager, Marzoli Machines Textile srl

12:30pm – 01:00pm

Splicing and Textile Laboratory Technology Updates


 Mr. Claudio Bertolotti, Sales Manager, Mesdan Spa

01:00pm – 03:00pm
LUNCH AND PRAYER BREAK

03:00pm – 03:30pm

PICANOL Weaving Machines


Bruno Caffieri, Sales Manager, Picanol N.V.

03:35pm – 04:05pm

Smart Technologies Meet Internet of Things


Mr. Michael Bo Kristoffersen, Sales Manager, Brueckner-Textile Technologies

04:10pm – 04:40pm

The Digital Textile Ecosystem For Manufacturing


Mr. Marino Bazzoni, Senior Sales Development Manager, EFI Reggiani

04:45pm – 05:15pm

Role of NTU – Dice Innovation Platform to Promote Knowledge Based Textile Industry


Dr. Yasir Nawab, Chairman of Weaving Department, National Textile University
CONFERENCE PROGRAM 2018
DAY 2 ‐ 28 April 2018 – Saturday
Time
Topics

11:00am – 11:30am

Sustainability
Abdul Rahim Khatri, CEO, Chemi Colour Enterprises

11:35am – 12:05pm

Protective Textiles and Clothing


Dr. Mudassar Abbas, Associate Professor, School of Textile and Design

12:10pm – 01:00pm

Supply Chain Finance & Trade Credit Insurance


Mr. Shahid Mahmood, CEO, EFT EksportCredit & Surety

01:00pm – 02:00pm
LUNCH AND PRAYER BREAK

02:00pm – 02:30pm

Sustainable Textiles


Mr. Theo Verweerden, CEO, Lamoral Coatings B.V.

02:35pm – 03:00pm

Entrepreneurship – Influence of Intellectual Assets in SME's


Mr. Shad Mustafa, Chief Executive Officer, Textile Marketing Company

03:05pm – 03:35pm

Knitted Applications in Technical Textiles


Dr.Hafsa Jamshaid C Text FTI , Chairperson of Knitting Department, National Textile University

03:45pm – 04:15pm

Latest Innovations in SMIT GS series Weaving Machines


Renato Perlini, Sales Area Manager, SMIT srl

04:20pm – 05:00pm

 PANEL DISCUSSION
CONFERENCE PROGRAM 2018
DAY 1 ‐ 27 April 2018 – Friday

Time
Topics

10:45am – 10:50am

National Anthem Pakistan

10:50am – 11:05am

Welcome Speech by Mr. M. Saleem Khan Tanoli (CEO) FAKT Exhibitions Pvt Ltd

11:05am – 11:15am

Welcome Speech by SM Qutab (Chairman) The Textile University of Manchester

11:20am – 11:50am

Keynote Presentation : Innovation & Entrepreneurship


Dr. Tanveer, Professor of Textile Engineering, National Textile University

11:55am – 12:25pm

Industrial Cyber Physical Systems Paradigm Applied to Spinning Mill


Mr. Gianangelo Licini, Sales Area Manager, Marzoli Machines Textile srl

12:30pm – 01:00pm

Splicing and Textile Laboratory Technology Updates


 Mr. Claudio Bertolotti, Sales Manager, Mesdan Spa

01:00pm – 03:00pm
LUNCH AND PRAYER BREAK

03:00pm – 03:30pm

PICANOL Weaving Machines


Bruno Caffieri, Sales Manager, Picanol N.V.

03:35pm – 04:05pm

Smart Technologies Meet Internet of Things


Mr. Michael Bo Kristoffersen, Sales Manager, Brueckner-Textile Technologies

04:10pm – 04:40pm

The Digital Textile Ecosystem For Manufacturing


Mr. Marino Bazzoni, Senior Sales Development Manager, EFI Reggiani

04:45pm – 05:15pm

Role of NTU – Dice Innovation Platform to Promote Knowledge Based Textile Industry


Dr. Yasir Nawab, Chairman of Weaving Department, National Textile University

CONFERENCE PROGRAM 2018
DAY 2 ‐ 28 April 2018 – Saturday

Time
Topics

11:00am – 11:30am

Sustainability
Abdul Rahim Khatri, CEO, Chemi Colour Enterprises

11:35am – 12:05pm

Protective Textiles and Clothing


Dr. Mudassar Abbas, Associate Professor, School of Textile and Design

12:10pm – 01:00pm

Supply Chain Finance & Trade Credit Insurance


Mr. Shahid Mahmood, CEO, EFT EksportCredit & Surety

01:00pm – 02:00pm
LUNCH AND PRAYER BREAK

02:00pm – 02:30pm

Sustainable Textiles


Mr. Theo Verweerden, CEO, Lamoral Coatings B.V.

02:35pm – 03:00pm

Entrepreneurship – Influence of Intellectual Assets in SME's


Mr. Shad Mustafa, Chief Executive Officer, Textile Marketing Company

03:05pm – 03:35pm

Knitted Applications in Technical Textiles


Dr.Hafsa Jamshaid C Text FTI , Chairperson of Knitting Department, National Textile University

03:45pm – 04:15pm

Latest Innovations in SMIT GS series Weaving Machines


Renato Perlini, Sales Area Manager, SMIT srl

04:20pm – 05:00pm

 PANEL DISCUSSION
Supporters, Sponsors and Partners