The IGATEX PAKISTAN exhibition is the largest, most well-established garment and textile machinery and accessories exhibition in South Asia that has earned a reputation for its excellence. This event provides a professionally enriching experience for textile machinery manufacturers, as it offers a platform to showcase their products and connect with quality buyers and decision makers in an increasingly competitive global business environment.
With the aim of fostering trade relations within the textile sector, IGATEX PAKISTAN facilitates the availability of cutting-edge equipment to meet the needs of the industry. By participating in this exhibition, attendees gain valuable insights into the latest trends and technologies used in the textile industry. The event's success is evident through its record-breaking number of visitors each year, with participation from 500 top-notch national and international companies hailing from 30 countries.
As IGATEX PAKISTAN celebrates its 22nd anniversary next year, it continues to attract over 11,000 visitors, making it a one of a kind, must-attend event for anyone involved in the textile and garment industry.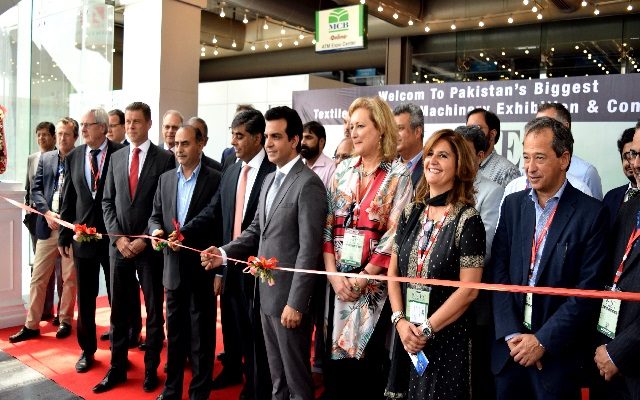 The textile industry in Pakistan plays a vital role in the country's economy, contributing significantly to its growth and development. With Pakistan being the fourth-largest producer of cotton globally and the ninth-largest exporter of textile goods, the industry holds immense importance. The textile sector encompasses the entire value chain, from cotton production and processing to manufacturing finished products such as fabrics, made-ups, and apparel.
One of the key contributions of the textile industry is its impact on employment and industrial value-added products. It provides jobs to approximately 40% of the industrial workforce in the country, making it a significant source of livelihood for many. Moreover, the sector contributes nearly one-fourth of the industrial value-added products and accounts for an average share of about 60% in national exports.
According to the textile policy the industry comprises of 13.41 million spindles, 198,801 rotors, power looms 375,000 and 28,500 shuttle less looms. As of June 2021, Pakistan textile industry comprises of 517 textile units (40 composite units and 477 spinning units). The yarn production has been growing and around 3.441 billion Kgs production of yarn was recorded in FY 2020-21. Global textile market was estimated at $1 trillion in 2020 which is expected to reach $1.5 trillion by 2027 at a CAGR 4.3% from 2020-2027.
The presence of a complete textiles value chain within Pakistan sets it apart from many competitors. With cities like Lahore, Faisalabad, and Karachi serving as major hubs for the industry, the country has a strong infrastructure comprising spinning units, weaving facilities, dyeing and finishing plants, and stitching machines. The extensive capacity in yarn production, including filament and synthetic fibers, further strengthens the textile industry in Pakistan.
The positive trajectory of Pakistan's textile exports has not only bolstered the country's economy but also fueled overall export growth. In the first quarter of the FY2018, textile exports increased by 7.91%, resulting in a rise in overall exports from $4.7 billion to $5.2 billion. This demonstrates the industry's consistent contribution to the country's export earnings.
The growth of Pakistan's textile exports has been continuously remarkable, with a record high of $19.33 billion achieved in the fiscal year 2021/2022. Textile exports contributed around 61% to the total exports during that period, highlighting its significance in international trade. The presence of renowned international brands like H&M, Levi's, Nike, and Adidas operating in Pakistan and collaborating with local textile mills further emphasizes the industry's global recognition and market reach.
With its abundant cotton resources, strong infrastructure and expanding international presence, the textile industry in Pakistan continues to thrive and play a crucial role in the country's economic development and global competitiveness.